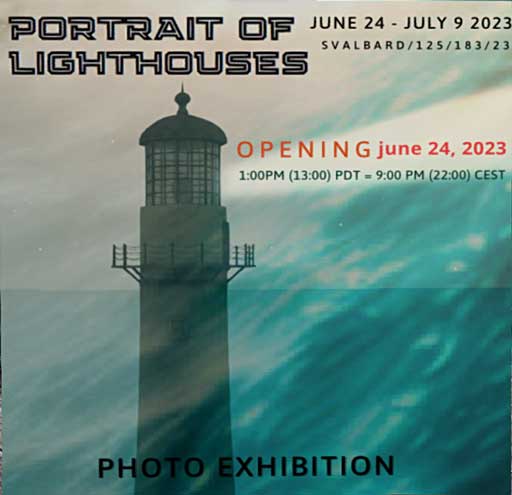 PORTRAITS OF REAL, VIRTUAL & AI GENERATED LIGHTHOUSES
June 24 – July 9
Svalbard -Second Norway region in Second Life LANDMARK MERFOLK (ascend to the surface and you're right outside the building)
"Nowhere other than the lighthouse had he experienced the happiest hours or found better consolation for his unhappinesses. It was the place he loved the most." — Gabriel García Marquez.
---
PROGRAM
OPENING June 24 "Portraits of Lighthouses" LANDMARK
1:00 PM (13:00) SLT (10:00 PM (22:00) Central European Summer Time)
Exhibition dedicated to Lighthouses. Three artists will exhibit their images about lighthouses, Carmelo T. Russo, Fiona Saiman and Sergej Zarf: real photographs, virtual photographs, and AI-generated images.
The three exhibitions will be presented on three platforms: in Second Life during Summer Sailstice 2023, Craft World, and Spatial.
You can view and download Sergej Zarf's eBook of AI photos Luci Nel Buio (Lights in the Darkness) free HERE.
Fiona Saiman's book of virtual world lighthouse photos Lumière Virtuelle: Fari in Second Life, Craft World ed Opensim can be viewed and downloaded HERE.
PARTY June 26 "Blinding Darkness" LANDMARK
1:00 PM (13:00) PDT = 10:00 PM (22:00) Central European Summer Time
A fantastic party, a play of lights, rain of light particles and music made by Rage Darkstone
(ITALIANO) Un party fantastico, un gioco di luci, pioggia di particelle luminose e musica realizzato da Rage Darkstone
USE "AUTOPLAY MEDIA" and SHARED ENVIRONMENTS for best effect! Dress code: Glowing.
"Please, come to share my performance with me… Terra, and Stex." — Rage Darkstone
MEETING June 30 "Portraits of  Lighthouses"
1:00 PM (13:00) PDT = 10:00 PM (22:00) Central European Summer Time at the new Sarah Ann Sailing Pavilion. LANDMARK
Meeting dedicated to the oldest lighthouses in Italy and North America. The speakers, writer Lilla Mariotti and Jeremy D'Entremont President of the American Lighthouse Foundation will reveal their history, legends and the lives of the keepers who have looked after them. (In English with Italian translation.)
(ITALIANO)
Mostra dedicata ai fari. Tre artisti, Carmelo T. Russo, Fiona Saiman e Sergej Zarf, esporranno le loro immagini sui fari: fotografie reali, fotografie virtuali e immagini generate dall'intelligenza artificiale.
Le tre mostre saranno presentate su tre piattaforme: Second Life at Summer Sailstice 2023, Craft World e Spatial.
All information about the works on display at the Portrait Lighthouses landing point in Svalbard Bay, at the initiative's dedicated Facebook Event, or email.
Facebook event: https://bit.ly/43VSw5p
Email: museodelmetaverso@gmail.com
The exhibition is curated by Roxelo Babenco founder of the Metaverse Museum and organized by Stex Auer, Sarah Ann Sailing.
https://www.museodelmetaverso.org/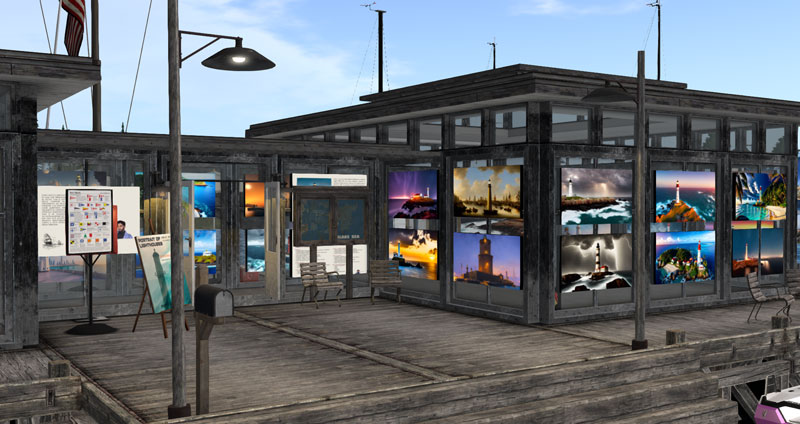 MORE INFORMATION: This text is in a notecard available at the exhibition:
PORTRAITS OF REAL VIRTUAL AI GENERATED LIGHTHOUSES
Marine lighthouses are fascinating constructions that exert great appeal on the collective imagination, thanks to the picturesque places where they are located and the symbolism that surrounds them. Their main function is to provide light guidance to mariners, showing them the right path to follow. Usually, lighthouses are towers that house a system consisting of a lamp and sophisticated lenses, capable of emitting light signals visible from afar. Over time, these systems have been improved through scientific progress. However, with the advent of new technologies such as LORAN and GPS, many argue that beacons are losing their importance and being replaced by digital systems. As a result, the construction of new lighthouses has decreased, and existing ones are undergoing a process of automation to reduce operation and maintenance costs. In addition, the romantic figure of the lighthouse keeper is gradually disappearing. Despite these changes, lighthouses still remain excitingly evocative places and represent vestiges of a bygone era.
In addition to their practical function, lighthouses are often surrounded by legends and myths that emphasize the importance of light guidance while navigating at night. A famous example is the legend of Hero and Leander, in which a lighted lantern on a tower helped Leander navigate through a strait to reach his beloved Hero. However, when the lantern went out due to a storm, Leander was lost in the darkness and drowned. This legend underscores the importance of lighthouse light in guiding sailors at sea.
The Exhibition entitled PORTRAITS OF REAL VIRTUAL AI GENERATED LIGHTHOUSES is a unique exhibition celebrating the enchantment and beauty of these iconic architectural elements. In this exhibition, three talented artists, Carmelo Tommaso Russo, Fiona Saiman and Sergej Zarf, will present their extraordinary images of lighthouses, captured through different artistic perspectives.
Carmelo T. Russo, an architect and fine photographer, will immerse us in reality with breathtaking photographs of lighthouses. His ability to capture the unique light and atmosphere of each lighthouse makes his exhibit an extraordinary visual experience.
Fiona Saiman, a talented and well-known photographer of virtual worlds, takes us on a space-time adventure, exploring fascinating places within Second Life and Craft World.
Sergej Zarf takes us on a journey through images generated by artificial intelligence.
Their exhibitions invite us to reflect on the creative possibilities that emerge from the interaction between art and technology.
The exhibition will be presented on three different platforms to allow a wide audience to participate. On June 24, at Summer Sailstice 2023, you will be able to view the exhibits on Second Life. Then, on July 1, the exhibition will open in Craft World, providing another opportunity to explore and appreciate the extraordinary lighthouse images. Finally, on July 7, you can visit the exhibit on Spatial, allowing a large community of visitors to discover the art of lighthouses.
Join us in celebrating the importance of lighthouses as symbols of orientation, discovery and beauty. The Lighthouse Exhibition is a unique opportunity to immerse yourself in a world of extraordinary imagery and to appreciate the talents of these exceptional artists.
Do not miss the opportunity to participate in this extraordinary exhibition that combines past, present and future through the art of lighthouses. We look forward to seeing you there!